As we all head to the local sporting goods store to stock up on our baseball gear, don't forget that there are new bat rules for this year! Remember, you can't use last year's bat unless it has the USA Baseball log on it so double check your bats before using them.
If your child plays in any of the following leagues, as of January 1st, 2018 they must be using a bat that falls under the new USA baseball bat standard (USABat).
American Amateur Baseball Congress (AABC)
Babe Ruth Baseball/Cal Ripken Baseball
Dixie Youth Baseball
Little League Baseball
Pony Baseball
So why the change in the bat rules?
In order to maintain the integrity of youth baseball, the USABat Standard will create wood-like performance in youth bats while allowing younger players to use light-weight bats that could not be achieved with wood bats.
Ready to pick the right bat for your ball player?
When looking for your new bat, the number one thing you need to look for is the USA Baseball logo. It will look like one of these: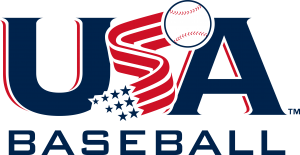 The new rules state that the leagues listed above will allow new USAbat approved bats in both 2 1/4″ and  2 5/8″ for ages 14 and under (not including Tee-ball). The new standard "will not have a drop weight limit so young players can use bats made with light weight materials."
Tee ball bats (lengths 26″ and shorter) are not affected by this new rule. However, participating leagues will require them to have the USA Baseball mark on them. Tee Ball bats that were produced and/or purchased prior to the implementation of the new standard can be certified using an Approved Tee Ball Sticker via the USA Baseball Tee Ball Sticker Program.
All new bats that bear the USABat licensing mark will be permissible for play in the leagues and tournaments of the participating youth baseball organizations. A full list of certified bats can be found here.
Wood bats are still ok, too! Solid, one piece wood bats are approved for use under USABat with or without the USA Baseball Certification Mark. Multi-piece and composite wood bats must feature the USA Baseball Certification Mark to be approved for play.
For more information on the USABat standard and a complete list of bats approved through the USABat Standard, visit usabat.com.